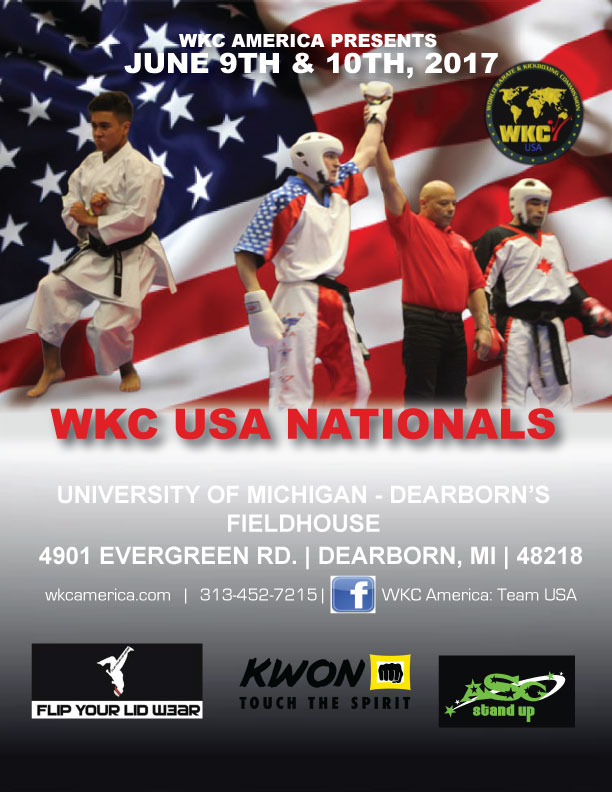 WKC USA Nationals
Test your skills against the best in the country to become eligible to compete at the WKC World Championships as a member of Team USA.
DATE:  June 9-10, 2017
VENUE:  University of Michigan-Dearborn's Fieldhouse
The Tournament Hotel:
Double Tree by Hilton
5801 Southfield Expressway
Detroit, MI 48228
(313) 336-3340
Registration for World Championship Divisions is ALL AT DOOR and CASH ONLY
$60 per division/First three divisions
$30 each division after first three divisions
Spectators: $5 weekend pass
DAY 1
Registration and Weigh Ins will begin at 2:00 pm at Fieldhouse
6:00 PM: Round 1 Weapons and forms World Championship Divisions
8:00 PM: Continuous Sparring
DAY 2
9:00 AM: Rounds 2 Forms and Weapons to be followed by Speed Fighting National Championship Divisions (Double Elimination)
DAY 3
The Great Lakes Pro Am
$40 ALL DIVISIONS FOR WKC COMPETITORS
National Championship Forms and Weapons divisions will be done in two rounds. The first round on DAY 1 will consist of your standard draw. The second round on DAY 2 competitors will reverse the order from the first round. The top 4 competitors with the highest combined scores fill the World Championship spots.